Apply
NOTE: This URL has changed. Go to http://english.unlv.edu/pwc for more current information.
UNLV's Certificate in Professional Writing is a six-course (18 cr.) English Department program open to all majors and working professionals. The program strengthens your workplace written communication skills or prepares you for a career as a professional writer.
Why Become Certified in Professional Writing?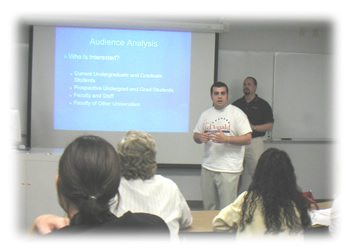 Two Eng. 406B students, Jamie Homampour (front) and Ed Hawkins, discuss their analysis of the English department's website. For the final project, teams re-designed the department's website, culminating in presentations to department faculty and classmates about their proposed changes. Jamie majors in English, Ed in anthropology. Other majors included communications, business, computer science, and engineering. (Spring 2003)
Almost every job in every field requires writing to some degree. This becomes even truer as you move beyond entry-level positions.


Most employers require applicants to have excellent communication skills, regardless of field or position.


Strong writing skills can increase your marketability and chances for promotion. A certificate in professional writing will give you an edge over others with similar backgrounds and education (Hansen).


The Internet and e-mail have made strong written communication skills more desirable than ever.


Professional writing is also a rapidly growing career area. Technical writers are found in all areas, including information technology, science, and engineering, producing documents such as proposals, print or online instructions, reports, and newsletters. Writing and editing jobs are projected to increase faster than the average for all other jobs through the year 2010 (U.S. Dept. of Labor). The mean entry-level salary is $41, 630 and can reach into the $90s for senior positions, according to the Society for Technical Communication's 2004 Salary Survey.
English 101 and 102 (or equivalent)
English 407a, Business Writing or English 407b, Technical Writing (or equivalent). NOTE: Completion of Business or Technical Writing is necessary to earn the certificate but does not count as one of the six courses.
Equivalence for transfer courses or industry experience will be considered
Core Courses

Jeff Himmelright, President of the Southern Nevada chapter of the Society for Technical Communication (STC), talks to Eng. 407C students about his background in professional writing and STC, a professional association of over 20,000 technical writers and editors worldwide. Job titles held by STC members include documentation specialist, web designer, information architect, teacher of technical communication, and freelance writer. In Eng. 407C, students explore the relationship of writing to their career interests and hone their writing skills by studying advanced concepts of rhetoric and composition. (Fall 2002)

To earn the Professional Writing Certificate, you must complete the following courses:
English 400, Document Design (3 credits). Focuses on rhetorical and visual factors that contribute to effectiveness and usability of documents, both print and online. (View recent syllabus)
English 407C, Advanced Professional Communication (3 credits). Presents advanced technical and business writing topics including writing and editing both paper and on-line documents. Focuses on communicating within organizations. (View recent syllabus)
English 406B, Electronic Documents and Publications. Work on producing various kinds of online documents such as web pages and help files. (View recent syllabus)
All core courses are currently taught in well-equipped computer labs. Core courses will be offered online via Distance Education starting in spring 2006.
Electives
Students must also complete at least 9 credits of elective English department courses offered on campus or online. These courses may be in writing, language, or literature, including 200-level introductory courses. Recommended electives include:
Eng 205, Intro to Writing Poetry/Fiction
Eng 401A, Advanced Composition
Eng 411B, Principles of Modern Grammar
Eng 414A, History of the English Language
Students can, with careful planning, simultaneously earn an English minor and the Professional Writing Certificate. UNLV will accept one 200-level or higher English course taken from another institution toward the electives requirement as well.
Portfolio
During the final semester, students seeking the certificate must present a portfolio to be evaluated by the Professional Writing Committee for professionalism, quality, and comprehensiveness. If it is unacceptable at the first submission, students may submit a revision once. If it is still unacceptable, the certificate will not be granted. (View portfolio submission instructions).
Enrolling in the Program

Holly Mizuno, a broadcast journalism major, created an "e-portfolio" website as one of the requirements for Eng. 406B. An e-portfolio is a professional website that includes a resume with additional documentation of knowledge and skills. For her website, Holly included samples of print and video news stories produced in her classes. She graduated in Spring 2003, after taking Eng. 407C and 406B to satisfy elective requirements for her degree. (Spring 2003)

To apply, submit a 1-page letter of interest, a resume, and documentation that you meet the prerequisites (e.g., unofficial copy of transcript).
Apply by e-mail to denise.tillery@unlv.edu (include statement in e-mail message and attach your resume and electronic/scanned copy of transcript)


Apply by mail:

Professional Writing Certificate Application
C/O Dr. Denise Tillery
Dept. of English
University of Nevada, Las Vegas
4505 Maryland Parkway
Box 455011
Las Vegas, NV 89154-5011


Hand deliver your application to Dr. Denise Tillery, Dept. of English, sixth floor, Flora Dungan Humanities building.
You do not have to be admitted to the program to enroll in any of the core courses. Register for one of the core courses to see if the certificate is for you.
You must, however, submit your application by the semester before you submit your portfolio. Students who are officially admitted to the program benefit from early advising and guaranteed enrollment in certificate core courses.
Contact

If you have any questions about the professional writing certificate fits with your career goals and current major, please contact Dr. Denise Tillery at jablonsk@unlv.nevada.edu or (702) 895-3516.
Return to Top | English Department | UNLV
Page URL: http://english.unlv.edu/pwc
September 11, 2006